Neb. city set to take over quirky Carhenge site
9 years 4 months ago
-
3 years 8 months ago
#1
by riada
LINCOLN, Neb., Mon Jul 15, 05:34 PM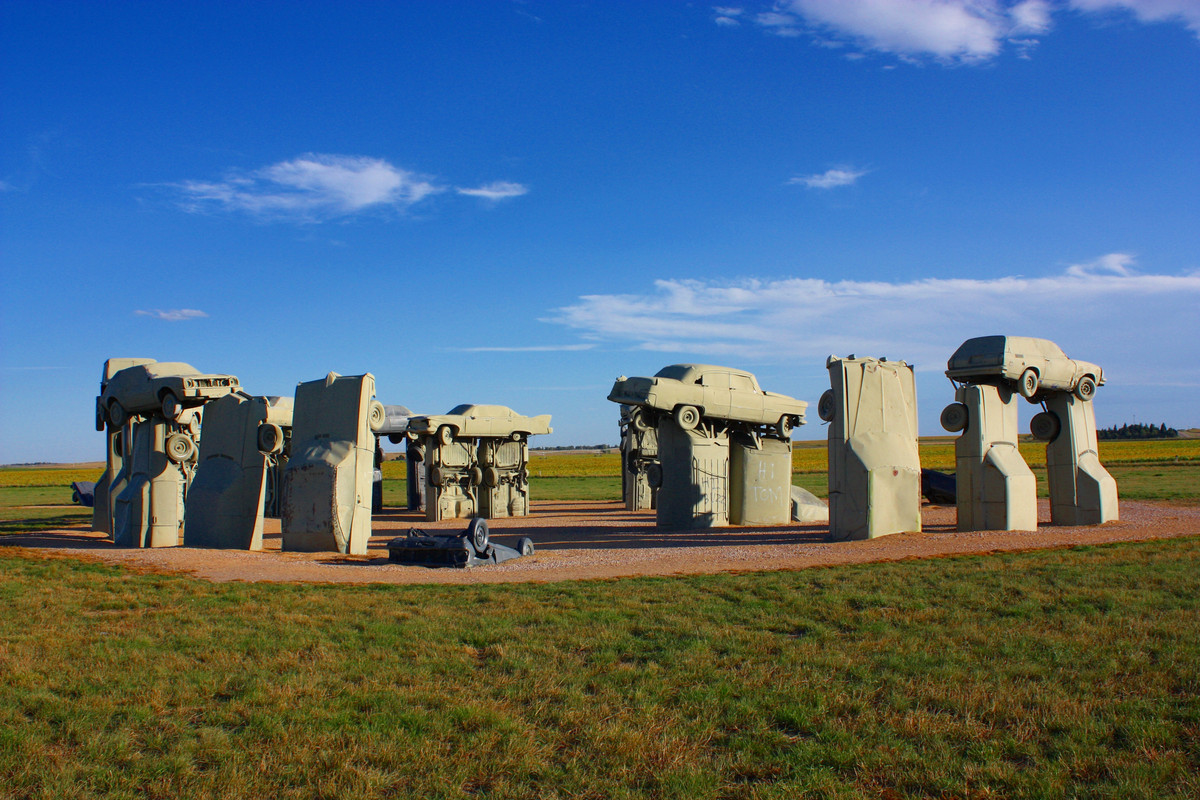 While it lacks the cultural significance of the original prehistoric monument found in England, western Nebraska's junk-car tribute to Stonehenge remains a top tourist draw in state - even if it is more likely to attract gearheads than Druids.
If officials vote next week as expected, the western Nebraska city of Alliance will take control of Carhenge, the 26-year-old mashup monument to English prehistory and the American automobile.
The Alliance City Council is expected to accept the monument and a surrounding 10-acre site as a gift during its meeting July 25. If the deal is approved, the city in October will assume ownership of the Stonehenge lookalike, once labeled the No. 2 wackiest attraction in America.
Carhenge was built in 1987 by the Jim Reinders and several relatives on land the family once farmed just north of Alliance, in western Nebraska. A few years later, Reinders donated Carhenge and 10 acres around it to a nonprofit group, Friends of Carhenge.
The monument is comprised of 38 automobiles arranged in a circle to closely resemble the stones at England's Stonehenge, the mysterious prehistoric landmark and UNESCO World Heritage site. Several cars are planted upright in the dirt, with other cars placed on top to form archways. All the cars are painted gray to further the resemblance to its ancient inspiration.
The monument was put up for sale in 2011, with an asking price of $300,000. Marcia Buck, president of Friends of Carhenge, said at the time the quirky tourist attraction lacked volunteers and had limited capital.
The site attracts an estimated 75,000 to 80,000 visitors per year, drawing many travelers on their way to South Dakota's Black Hills and Mount Rushmore, said Kevin Howard, director of the Alliance Visitors Bureau. Howard says the replica, about four miles north of downtown Alliance, has helped steered business into the town of about 8,500.
Carhenge received national recognition in 2009, when the travel advice site TripAdvisor named it among the nation's 10 wackiest attractions. The only site deemed wackier was a toilet seat museum in San Antonio, which has more than 800 decorated toilet seat lids but no bathroom.
The monument's nonprofit owner, the Friends of Carhenge, decided to sell the replica because of the rising cost of gift-shop merchandise, insurance and property taxes. The group will remain intact but shift its focus to fundraising, said Buck.
Buck said initial upgrades could include a new paint job and gravel for pathways. The partnership with the city will help add awnings for shade, new trees and an RV campsite around the otherwise desolate monument.
The monument routinely attracts visitors from around the world and all 50 states. As of June, Carhenge this year already had drawn visitors from at least 48 states and 14 countries. The owners charge no admission fee, and visitors are allowed to walk up and touch it. Last year, visitors from Canada, England, German, France and Italy signed their names to the log book, to name a few.
"I'm always amazed at how many people go out of their way to see it," Buck said.
Officials in Alliance have recommended that the city accept the monument and land as a gift, which would put city officials in charge of lawn-mowing and other maintenance, said city manager J.D. Cox.
Cox said the monument had its critics in the early years, who argued that it looked "junky," but many residents have since warmed to the site as a draw for tourists who might stop in Alliance.
"It's been successful with the volunteers, and we're hopeful we can take that success to a whole new level," Cox said. "Out of all the conversations I've had - and I've had dozens - I haven't talked to anyone who isn't excited about it."
Reinders' family built the monument as a memorial to his father. Reinders studied the structure of Stonehenge while living in England and used that knowledge to build the car-based monument with the same shape, proportions and size. Other car sculptures have since been added to form what is now the Car Art Reserve.
---
Nor but in sleep findeth a cure for care.
Incertainty that once gave scope to dream
Of laughing enterprise and glory untold,
Is now a blackness that no stars redeem.
Please Log in or Create an account to join the conversation.